The Low Down on Threesomes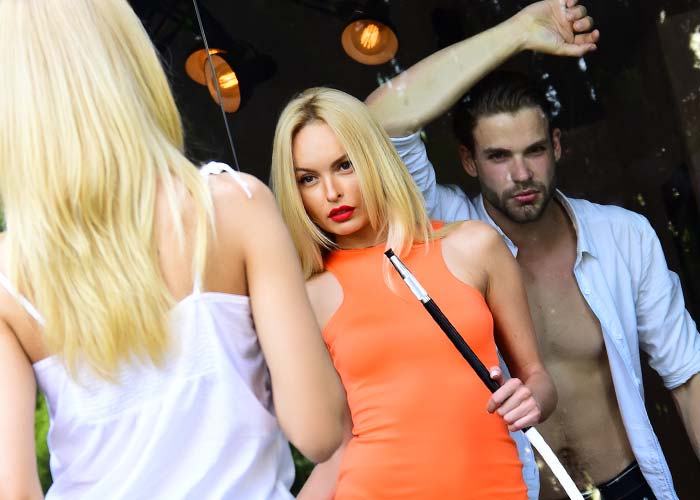 Threesomes are controversial. While they are becoming less of an issue these days, they are still guaranteed to divide opinions. There are those who see the act, and those who participate, as depraved, desperate, and dirty, and there are those who see it as a matter of personal choice.
Whatever the views of those around you, the only person who can make up your mind on the matter is you. With an average of 24% of men and 8% of women owning up to having engaged in a threesome (studies do vary), it's safe to say that the entire world isn't getting in on the fun, but there are definitely other people out there who share your interest.
Setting Up a Threesome: Safety, Security, and Well-Being
As with all areas of sexual activity, your biggest concern when considering a threesome should be your safety and your well-being.
Studies have found that while threesomes are riskier than long-term, monogamous sex, they are in fact not significantly more dangerous than serially monogamous relationships which feature unprotected sex. So, despite what people may say, threesomes are not an inherently risky business if you are safe and sensible about your venture.
So, how do you set up threesomes safely?
1. Check, Vet, Chat:
No matter if you're having a threesome with a long-term partner or two new lovers, make sure that you all get checked, you all know and are happy with each other being involved, and that you talk to each other before you try to get things underway. An impromptu tryst might sound exciting, but it's a sure way to end up in a position you regret.
2. Cover Up:
This may seem pretty obvious, but everyone should be practicing safe sex. Use barriers for all sexual activities, switch barriers when you change acts or partners, and remain conscientious in this matter. It may sound like a pain, but this is key to ensuring the safety and well-being of all involved.
3. Set Boundaries:
No matter the makeup of your threesome, make sure that everyone sets, understands, and agrees upon boundaries and rules. Every person in the room has to feel safe to say yes – and more importantly, to say no if needs be.
Threesome Techniques for Committed Relationships
The biggest challenge for anyone looking to have a threesome while in a committed relationship is jealousy; the green-eyed monster can quickly rear its head if you're not careful and considerate. If you are looking to have this experience with your partner, the first thing you have to do is talk about it with them in a calm, honest, and non-pressurized way.
Things to Not Say:
"I REALLY want to do this."
"I tried that thing you wanted to do."
"I just think it would spice things up."
What all of these statements have in common is an element of force; you're putting your partner in a position where they feel they can't or shouldn't say no. Instead, try,
"I'm interested to hear what you think about trying this."
"Would you consider this?"
"How do you feel about threesomes?"
Open the conversation in a way that doesn't put them on the spot, and give them time to think about it, even if that means backing off for a few days.
Going Forward
If your partner agrees to trying a threesome, you should talk honestly with them about what they do and don't want to be involved. For example, are you both interested in involving an additional partner of the same gender? Studies show that men are less open-minded about involving another man, for example.
Never agree to something you don't want simply to please your partner, and never push, wheedle, or sulk if your partner doesn't want something you do; these are sure-fire ways to plant the seeds of resentment and hurt.
Instead, agree on boundaries that are comfortable for both of you. Some people, for example, will not be happy with the idea of their partner kissing the third person because this is a loving, rather than sexual, act. Other people may want to take penetration off the table. Likewise, you should agree on what will happen after the event before you get underway; many people, for example, will not want continual contact with the third person. Therefore, involving a friend can be incredibly risky.
Finally, set a code word or phrase with your partners, which will allow anyone to pull the plug without hassle, stress, or judgment. Something as simple as "I need a drink" can be a signal that someone is becoming overwhelmed or upset and needs a few moments to gather themselves before deciding if they wish to continue.
If you want, set up two words; one phrase or word to let everyone know that someone needs a break, and one which brings an immediate and complete stop to the proceedings. It may seem silly to set a code word when honesty and communication are such focuses at every other stage, but in the heat of the moment, many people can be confused, fuzzy, or feel too guilty to verbalize their sudden changes in mood.
Safe words give them a way to cool things without having to answer questions.
Conclusion
Above and beyond all else, communication, honesty, and respect are needed to have a threesome while in a relationship of any kind. In fact, they're pretty much a requirement for threesomes of any kind!
Sign up for QuickFlirt.com to find local dates!